Furnished Housing Near Amazon's Nashville Location
Full Kitchens
Fully Furnished
Towels & Linens
Fully Furnished
Amazon's new corporate office in Nashville, Tennessee is a shining example of the company's commitment to innovation and employee satisfaction. The building, located in the heart of the city, spans over 500,000 square feet and boasts state-of-the-art amenities, including a rooftop terrace with sweeping views of Music City, a fitness center, and multiple dining options.
The office is designed with Amazon's signature minimalist aesthetic, featuring a neutral color palette, open spaces, and an abundance of natural light. The company has made a concerted effort to reflect Nashville's culture and heritage throughout the building, including the use of locally sourced materials and the incorporation of local art.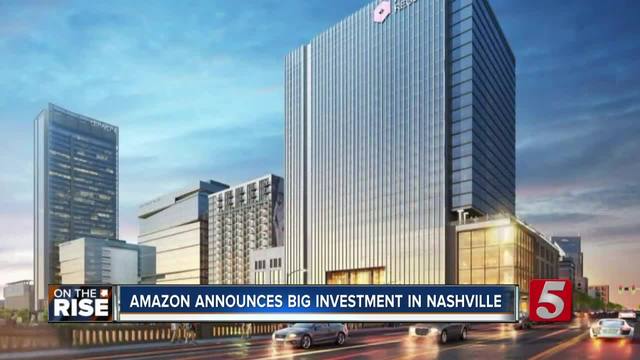 The facility is also designed with sustainability in mind, incorporating green technologies such as rainwater harvesting and energy-efficient systems. These efforts demonstrate Amazon's commitment to being a responsible corporate citizen and minimizing its environmental impact.
At its core, the new Nashville office is about creating an environment that supports the growth and well-being of Amazon's employees. The company has gone to great lengths to ensure that the space is not only beautiful and functional but also provides a sense of community and collaboration.
Employees are encouraged to work together in the numerous collaboration spaces, lounge areas, and conference rooms, which are equipped with the latest technology. The company also offers a variety of programs and events, including team-building activities, mentorship opportunities, and volunteer events, that foster a sense of community and purpose among employees.
In conclusion, Amazon's new Nashville corporate office is a testament to the company's continued dedication to its employees and its commitment to the communities in which it operates. With its innovative design, commitment to sustainability, and focus on employee well-being, it is sure to be a hub of creativity and productivity for years to come.
Other Amazon Corporate Locations We Serve
440 Terry Ave N, Seattle, WA 98109
1800 S Bell St, Arlington, VA 22202
10201 Torre Ave, Cupertino, CA 95014
1160 Enterprise Way, Sunnyvale, CA 94089
55 Pier 4 Blvd., Boston, MA 02210
950 6th Ave, New York, NY 10001
11501 Alterra Pkwy, Austin, TX 78758
13200 Woodland Park Rd, Herndon, VA 20171
40 E Rio Salado Pkwy, Tempe, AZ 85281
1770 Crystal Dr, Arlington, VA 22202
2100 University Ave, East Palo Alto, CA 94303
75 E Santa Clara St, San Jose, CA 95113
27 Melcher St, Boston, MA 02210
7 W 34th St., New York, NY 10001
13455 Noel Rd, Dallas, TX 75240
425 106th Ave NE, Bellevue, WA 98004
1665 W Alameda Dr, Tempe, AZ 85282
8600 S Science Dr, Tempe, AZ 85284
1100 Enterprise Way, Sunnyvale, CA 94089
475 Sansome St, San Francisco, CA 94111
1945 E Russell Rd, Las Vegas, NV 89119
450 W 33rd St, New York, NY 10001
33333 Lyndon B Johnson, Dallas, TX
825 Town & Country Ln, Houston, TX
Contact Leasing to Secure your Corporate Apartment